Today a few of my year went on an outing to Liverpool, because we'd never been. It is a nice city to wander around, and the warm sunshine was a bonus! We went to Mass at the Catholic Cathedral of Christ the King. I'd seen pictures of it already, so I wasn't too surprised by what I saw, but I must say I still haven't warmed to it!
Having said that there were a few things in it I did like, such as the images in the St Joseph Chapel.
From there we went to the Anglican Cathedral, which was designed by the notable Catholic architect Giles Gilbert Scott (at the age of 22!) in 1903, but wasn't finished until 1978. Ampleforth Abbey is another of Scott's achievements... The cathedral is the biggest in the UK, and is certainly an impressive space, giving the aura of a moody, continental, gothic cathedral I think...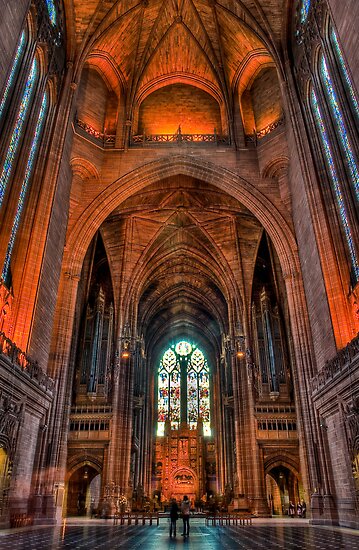 Make of the two what you will! I know which I prefer.